Ping G425 Driver Initial Review
How good is Ping's upcoming offering?
While all of our content is mobile optimized, we recommend viewing on a desktop for the full experience.
Ping has always been the one brand that I consider to put function over form.  They were always the ones to create something that plain worked even though it was not pretty.  The Ping Eye2s and the Anser putter will always be the clubs that people will remember but what about their woods.  
Has there ever been one driver from them that has stood out? To me it was the TiSi or what I used to call the "rice cooker."  That thing was ugly as sin but boy did it perform.  I had 5-6 of these things varying in lofts and hosel set ups.  The best looking driver that I loved was the Rapture.  It had that muted sound and the look that was more traditional.  Then the G15 came along and the higher MOI shape started to become what Ping was going for.  The drivers started to have things on the crown and became more hi tech looking than traditional shapes drivers.  
Ping was trying to make sure you could see the tech advancements in their woods.The Ping G400 and G410 did really well so it was interesting to see if they could create a driver that was better than their predecessors.  
The new G425 was set to release in the US this year but with covid, everything was pushed back to 2021.  They decided to release the G425 line in Asia early so some people were finding ways to get it over here so they could be one of the first ones to hit it. If you know me I was one of those idiots who had to have this before anyone else.  
Luckily my friends at CNX in Thailand were able to help me out and send me one of the first ones they received.Once I received the head I was impressed at how it looked.  The color was definitely more stealth than the G410.  I weighed the head and it was 200g without the adapter.  I took off the weight and measured that and it was 25g.  Ping likes to run their heads heavier because they like to use shafts that are counterbalanced.  They believe that if you have more mass going into the golf ball then you will have more distance.  
The only problem with this is most golf shafts are not counterbalanced.  Knowing all of this I had to decide what shaft I was going to use so swing weight wouldn't be an issue.  The one shaft that I could think of that wasn't fully counterbalanced but had a higher balance point was the Fujikura Ventus Blue. I decided to go with this shaft and I wanted to get it close to my playing length of 45.5.  After test fitting the grip at 45.5, this was not going to be possible so I got it to be as long as I could without being too heavy.  It ended up being 45 1/8 and D4.5.  Once the club was dry I was ready to test this thing out. 
Ping G425 Max
9 Degrees
45 1/8
Fujikura Ventus 6x
Standard setting
MCC Plus 4 undersized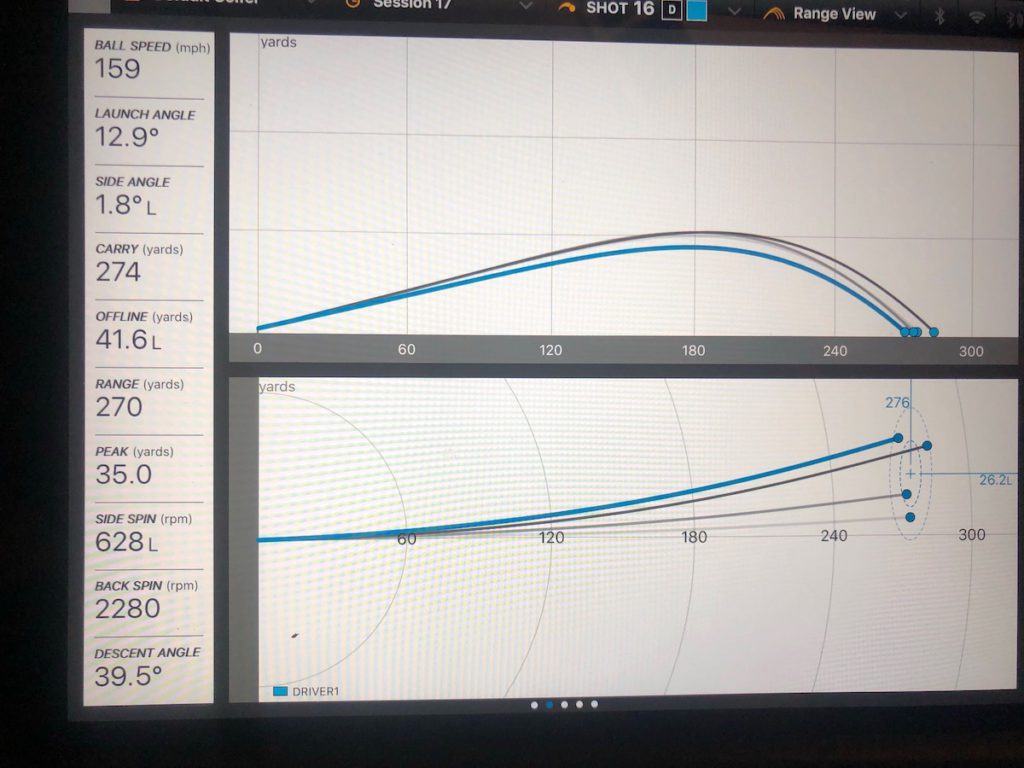 My first impression was this club looked like a golf club straight from the Flintstones.  The head looked huge and the shaft felt short. The graphics actually framed the ball well.  From a looks standpoint I felt I could just hammer this thing but let's see what the numbers would say. First off I have to admit I am super optimal with my gamer, Callaway Epic Flash Triple Diamond.  I have yet to find anything that has given me the most distance with the best accuracy.  
If anyone who knows me I cannot have a club that is old and trust me I have tried to kick this out of the bag all year to no avail. The first initial shots with the G425 produced shots that were low launch with moderate spin.  When I had my attack angle at 5 degrees then the results were similar to my gamer.  I wondered if it was the shaft so I tried the same shaft in a G410 head and it launched 2-3 degrees higher at the same loft. 
I knew that this was something that had to be hit outside to get some real results.I asked my friend, Dan Falls who is one of the better golfers in the area to help me out with testing this club outside.  We started on the range and I was still struggling to get the proper height with this club.  Dan, on the other hand was absolutely bombing this thing on the range.  His gamer was a TaylorMade SIM Max with the Graphite Design Tour AD XC 6x.  
We then went out and hit a few drivers on the course using real golf balls instead of range balls.  I was getting better launch numbers with the better ball but it was not as long as my gamer.  I have to think it was the length of the shaft so it really wasn't a fair fight.  It was Dan's turn and he was hitting this thing straighter and longer than his gamer.  I had him hit a few drives a little harder to see if it would create a wider dispersion.  It didn't.  He was hitting the club so well he asked if we could go to his place to test it on his machine to compare numbers.Dan has a pretty nice setup in his garage.  He has a Foresight GC2 with the HMT.  I had him hit a few with his gamer and then with the G425.  The numbers were showing he was way more consistent with the G425.
Dan asked me if I  would sell him the club but once I told him the price I paid from Asia he kind of hesitated and said he would wait until next year.  The pains of being the first to have something. The next few days I had some other people test the club and they were all hitting it better than their gamer.  This was on the course and indoors on a launch monitor.  Not one person had a bad thing to say about this club.  
I will be interested to test this out if I can get my hands on a lighter back weight so I can play it at my normal playing length. Next year is going to be a great year for drivers as almost every manufacturer will have something new by February.  I would not be surprised to see the Ping as one of the top drivers for 2021.